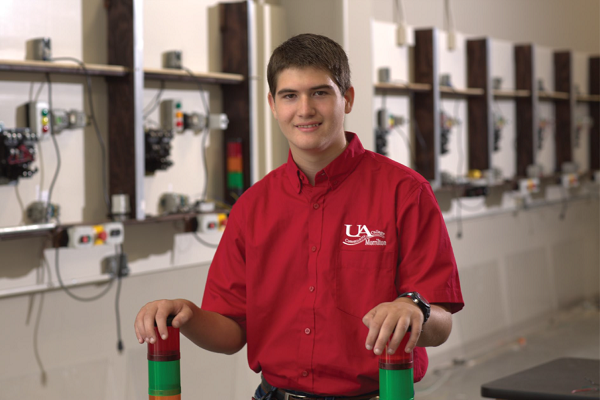 School Counts!
This workforce development partnership between Morrilton's business community, the county's K-12 schools and the University of Arkansas at Morrilton is supported by the Conway County Community Foundation because of its clear relationship to community growth and personal opportunity.
"Since it started back in 2006, our local Community Foundation has made significant contributions to School Counts," said John C. Gibson, Conway County Community Foundation executive director. During the three-year period beginning in 2006, the local Foundation contributed $16,406 to the organization, of which $6,000 was a Giving Tree Grant. In addition, other endowment funds held at the Conway County Community Foundation have contributed $111,484 to School Counts! since 2006.
School Counts! concurrent student Jeb Johnson (pictured above), a 16-year-old junior from Springfield, is studying Industrial Maintenance and Mechanical Technology at the new 53,843-square-foot Workforce Training Center officially opened by U of A Morrilton in April. The state-of-the-art facility also offers training in the high-wage, high-demand occupations of HVAC, automotive service technology and welding.
"I'm interested in the electrical field, and after graduating I plan to get an associate degree and then a full four-year degree," said Johnson. "This way I'll have the skills to get good summer and part-time jobs I won't have a lot of debt when I get out."
He found out about the program at his high school, Nemo Vista, from Lawana Lyon of the Conway County School Counts! Foundation. "I have a fun job – I get to talk to all students in schools in Conway County about the School Counts! program," Lyon said. "Students learn the importance of having great attendance, setting career goals, being a quality employee and always giving their best effort."
As students enter high school, Lyon begins to recruit for specifics like the concurrent credit program. This program, including technical and general education credits, is making a big difference in giving eligible students a real jump-start with a post-secondary education. "I love it when I see 12th graders recognized with School Counts! honor cords at graduation ceremonies," she said.
U of A Morrilton Chancellor Larry Davis said the concurrent student program works because area schools pay a portion of the tuition, School Counts! pays a portion of the tuition and the college waives the fees. "It's all about the students," he said. "Lawana does a fabulous job focusing on the kids."
"I don't know if we'd exist without the Community Foundation," Lyon said. "They have helped make our programs financially possible."