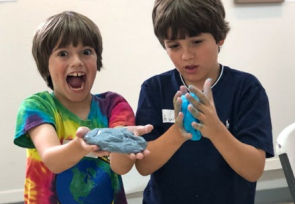 A story from our 2018 Annual Report
The first Crawford County grant of the newly expanded Western Arkansas Community Foundation helped fund a summer arts camp at the Center for Arts and Education in Van Buren.
Ken Kilgore, a board member of both organizations, explained that the grant to fund the summer program for students from nine communities in Sebastian and Crawford counties exemplifies the spirit of cooperation between the two counties that led the Fort Smith Area Foundation to expand its territory to Crawford County and become Western Arkansas Community Foundation.
This year, 500 students obtained life skills needed to become successful adults. "Students learn the fundamentals of art, and they gain skills in communication and problem solving." said Jane Owen, CAE executive director. "Parent and teacher feedback is that art activities teach their students good work ethic and build self-confidence."
In its first 30 years as a Community Foundation Affiliate, Western Arkansas Community Foundation has granted more than $12.6 million while engaging people, connecting resources and inspiring solutions to make western Arkansas a great place to live now and in the future.
"Expanding to Crawford County was the right thing to do," said Matthew Holland, chair of the Western Arkansas affiliate. "We added more resources, more ideas and more imaginations to reach our goals."
Our network of 28 affiliate offices helps us understand the unique needs of each town and city. Each office is staffed with a part-time executive director that provides support for the local people who want to give and nonprofits who are providing programs and services to local citizens. Wherever you are in Arkansas, there's a Community Foundation office nearby. For a full list of affiliate offices, visit arcf.org/affiliates.