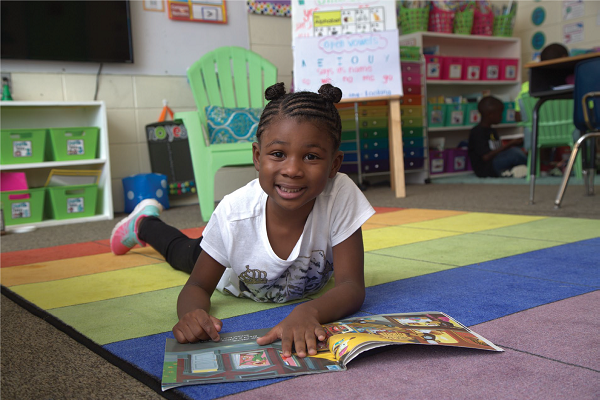 For three years, Misty Ward of Magnolia's East Side Elementary dreamed of having a book-mobile that would deliver reading programs to kids during the summer. After doing some research and finding what worked for other Arkansas school districts, she decided to form a plan.
With only 29 percent of Magnolia K-3 students reading on grade-level, Ward knew that providing a high-quality summer program would be key in helping boost local students' reading scores. Known as the "summer slide," summer learning loss happens when students lack access to quality reading programs during their months off from school. This backwards slide can often leave children up to three years behind their peers by the end of fifth grade.
Past summer reading programs in Magnolia had experienced low attendance due to rural transportation challenges and were often expensive for schools to operate. Ward believed a book-mobile could solve these challenges while providing quality programs in the most efficient way.
After Arkansas Community Foundation launched its Grade-Level Reading Initiative, Ward presented her plan to the local board of directors. With a $5,000 grant from Columbia County Community Foundation, a bookmobile program was finally within reach. "Our board was really excited to support the idea of a traveling summer reading program in Magnolia," said Janet Rider-Babbit, Executive Director of the local Community Foundation affiliate. "Our work is about collaboration. We wanted to support programs that are working and Misty had the relationships and expertise to see a program like this succeed."
With funding in place, Ward began the Reading and Rolling program and worked with the local school district to secure volunteers, bus drivers and transportation. She recruited colleagues, including Denise Phillips, to co-lead and visited with mayors, churches and community centers to identify locations that could serve as easy-to-access bus stops.
"We sent letters home with over 900 children in the district letting them know about the program and where the bus stops would be so they could attend," said Ward. "We had great attendance and hope to reach more kids next summer."
In its inaugural year, Reading and Rolling served about 30-40 children each week. Principals drove the bus with literacy coaches and teachers to local parks, churches and community centers. Each program lasted about 30 minutes and children in attendance left with a new book to take home and use for
reading practice.
Ward and Phillips hope to continue to build the program so that it can become a community staple, ultimately boosting reading skills and improving grade-level reading scores for children across the county each summer.
Learn more about grade-level reading statistics in your community at AspireArkansas.org.